MRCC has been featured on the cover page of the October 2019 issue of the CIOReview, one of the most recognized magazines in the technology industry.
'10 Most Promising Recruitment/Consulting Services Companies of 2019.'
"We are a delivery-focused company, allowing successful project completion, at a fixed cost, by recruiting the right candidate for our clients"
MRCC has been recognized as the renowned IT Staffing firms in US following a powerful resourcing concept, based on the comprehensive value chain analysis of recruitment process utilizing the in-house capabilities and the extensive market research.
Our technology-driven IT Staffing services bring together functional, strategic and operational expertise in maximizing business efficiency and reducing operational costs. We have been building strong, long-term client relationships through our wide array of IT services, with successful focused delivery and project completion.
"With a strong value proposition in place, MRCC is exhibiting rapid growth year after year. This growth is due to our growing technical, geographical and vertical outreach. MRCC is focused on providing innovative and cost-effective learning solutions, technology solutions and technology staffing," commented Anil Shah, President & CEO of MRCC.
Selection to the 2019 CIO Review Top 10 Most Promising Recruitment/Consulting Services Companies was based on the following criteria:
Staffing quality and expertise
Customer reviews
Niche specialization
Industry visibility, innovation and impact
Company size and growth potential
Geographic reach
Regarded for its best-in-the-industry staffing strategy, MRCC has been hailed as a prime contributor to the recruitment industry. CIO Review hand-picked MRCC for its flexible delivery model that delivers personalized staffing experiences.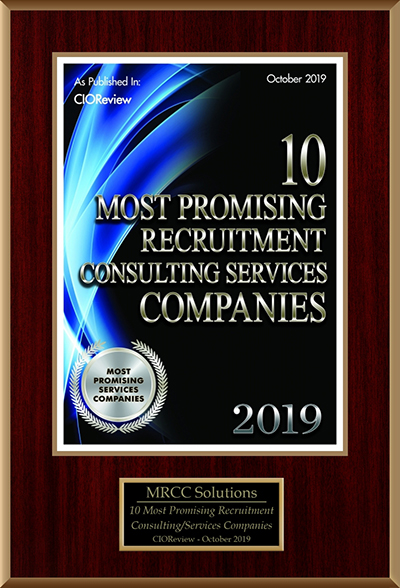 About MRCC:
MRCC, headquartered in Boston, is a 23-year-old rapidly growing IT services company that has five business units in the areas of Oracle, IT Staffing, eLearning, EDM, Application Development & QA; helping organizations transform their environment and approach for the future.
From creating technology solutions that address the custom needs of the business, to developing and delivering learning solutions that improve knowledge and business, to providing the on-demand technical talent that drives corporate technology, MRCC is a best in class company in providing innovative and efficient solutions.